Dr. Kavilaveettil
Dr. Kavilaveettil is certified in neurology by the American Board of Psychiatry and Neurology (ABPN). She is highly trained to treat disorders of the nervous system. This includes diseases of the brain, spinal cord, nerves, and muscles. Neurologists commonly diagnose and treat the following conditions: strokes, epilepsy (seizures), headaches, dementia (including Alzheimer's disease), multiple sclerosis, Parkinson's disease, and various forms of pain.
Dr. Kavilaveettil has fellowship training in clinical neurophysiology (Epilepsy/ Neuromuscular Disease) and Electrodiagnostic Medicine (EEG/EMG).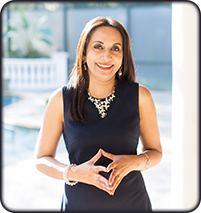 Board Certified Neurologist
Board Certified In Clinical Neurophysiology
EEG, Seizures and Epilepsy. In office EEG and Ambulatory Extended EEG testing offered.
Board Certified In Electrodiagnostic Medicine (AANEM)
Specialized in Diagnostic measures : EMG, Nerve conduction studies, testing for Myasthenia (Repetitive Nerve Stimulation).
Treating conditions like : Myasthenia Gravis, Myopathy, CIDP, Polyneuropathy, Carpal Tunnel Syndrome diagnosis.
Certified In Headache Medicine
Treating Migraine, Headache and related conditions.
Botox Injections for refractory headaches, Dystonia, Spasticity and Blepharospasm.
Fellowship Training
7/1/2004 - 6/30/2005
Clinical Neurophysiology
University of Illinois at Chicago
College of Medicine, Department of Neurology
Residency Training: Neurology
7/1/2001 – 6/30/2004
University of Illinois at Chicago
College of Medicine, Department of Neurology
Internship: Internal Medicine (Prelim)
6/24/2000 - 6/30/2001
Christ Hospital and Medical Center
Oaklawn, IL 60453
Research Experiences
Cook County Hospital : Clinical Research
1999-2000

UIC, West Side VA: Lab Research
1998-2000
Achievements, Fellowships and Associations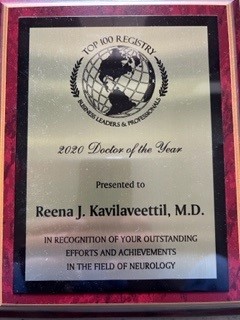 Featured in Tampa Style, March 1, 2023
Tampa's Elite Doctors 2022- Tampa Style Magazine
Top 100 Registry 2022
Reena J. Kavilaveettil, MD - America Top 10
Featured in Tampa Style magazine's Best of Tampa awards for Tampa's Doctors of the Year 2021
Top 100 Registry Business leaders and Professionals 2020 – Doctor of the year 2020
Top Doctor 2019- Top Neurologist 2019 Florida
Top Doctor 2018 – Top Neurologist 2018 Tampa, Florida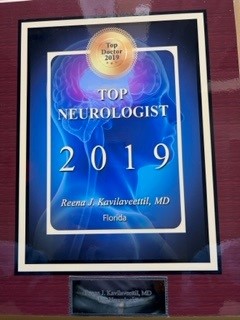 The Chief Resident for 2003 - 2004
Department of Neurology, UIC
Resident Fellowship Award AAN 2004
Member American Epilepsy Society
Dr. Kavilaveettil has been practicing in Tampa area for almost 16 years now. Appointments are available in Tampa, Florida.
At St. Mary's Neurology Center patients are assured comprehensive, state-of-the-art care. We evaluate and treat a wide range of neurological conditions and our goal is to give you personalized treatments, right here at our Center in Tampa.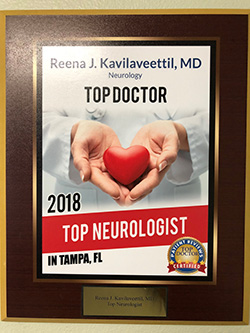 A neurologist is highly trained to treat disorders of the nervous system. Neurologists may serve as consultants to other physicians as well as provide long-term care to patients with chronic neurological disorders.